Beatriz Ferrer-Salat and Delgado win Grand Prix Freestyle at CHIO Aachen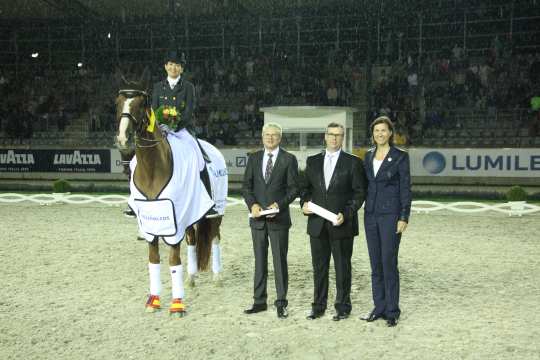 It was quite a surprise when Beatriz Ferrer-Salat and the Westphalian-bred De Niro son, Delgado, claimed the bronze medal in the Freestyle at the European Championships here in Aachen in 2015. Today, the pair were the absolute favourites and they certainly did justice to this role. The music for her freestyle choreography was composed especially to show off the advantages of her chestnut gelding in the best light: His amazing trot tour and exceptional submissiveness. The Spanish rider who lives near to Barcelona presented all of her strengths this evening in spite of the pouring rain and was awarded a score of 78.275.
Second place went to a rider from her neighbouring country, Portugal's Maria Caetano with the beautiful Lusitano Coroado (75.275). Jan-Dirk Gießelmann from Germany ranked third. His Real Dancer danced to a score of 75.125 to the melodies of Tom Jones.
The Austrian rider Belinda Weinbauer finished fourth with Söhnlein Brilliant MJ (74.975). During the performance of this pair, one got the impression that somebody had turned the tap on in the heavens above. It rained cats and dogs. But as Charlott-Maria Schürmann (fifth place) said: "We are pretty weatherproof. Burlington and I prefer the rain to humid, dry weather!" She had hoped her score would be a little higher than the 73.125 percent she was awarded. "But then we are here in Aachen and not on some field in Gelsenkirchen!"
Article Source: CHIO Aachen
Image courtesy CHIO Aachen / Foto: Michael Strauch
Back to News