Laura Graves unveils amazing new Freestyle routine at Global Dressage Festival Wellington,FL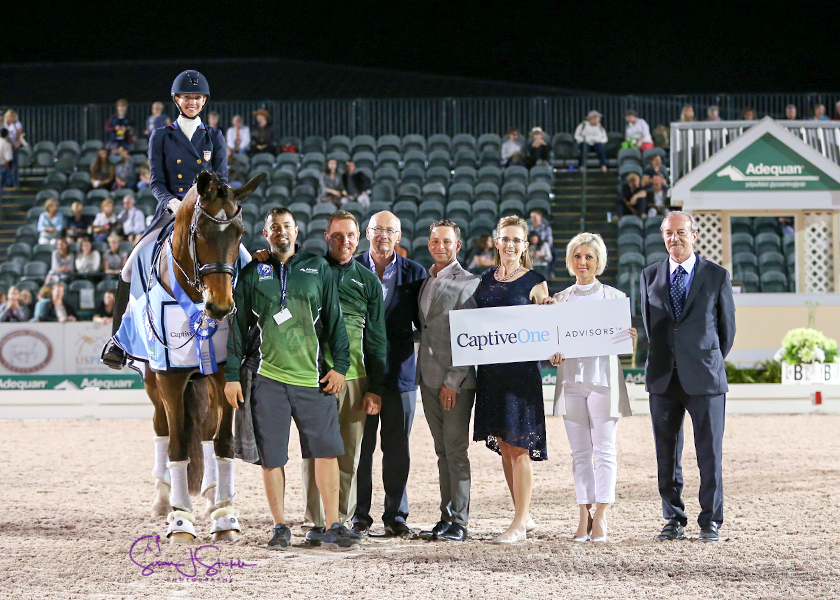 Laura Graves' brand new freestyle rocketed her and Verdades to the top of the list in the Grand Prix Freestyle CDI5*, presented by CaptiveOne Advisors. The 30-year-old American scooped the $35,400 winner's prize under the lights in week five of the Adequan® Global Dressage Festival (AGDF) at Palm Beach International Equestrian Center (PBIEC) in Wellington, Florida.
In front of a packed grandstand and VIP pavilions, Sweden's Tinne Vilhelmson-Silfvén was second, with local rider Shelly Francis climbing a place from the grand prix to finish third.
Graves said: "It was the first run-through of the new canter tour of our freestyle. Even though we're not using the new FEI floorplan creator here tonight, it's a big part of my preparation for the World Cup Final in Paris as it will be used in the final. We've actually taken away a bit of risk as the changes aren't off a curved line, because you actually don't gain as many points as you do for doubling up on the pirouettes, so it ended up being a little bit of a math equation.
"Big thanks to Terry Gallo who always steps in when I have a last minute 'great' idea. I couldn't do it without her and I was super pleased with how the music turned out. We have a couple of little tweaks to work on before our next performance at Global," she added.
Watch Laura Graves' winning CDI5* freestyle test on Verdades. Courtesy of Richard's Equine Video.
Article Source: GDF Press Release
Image courtesy ©SusanJStickle
Back to News