October 26th, 2017
Hot off the Press
NAF announce Lottie Wright as Shining Star for September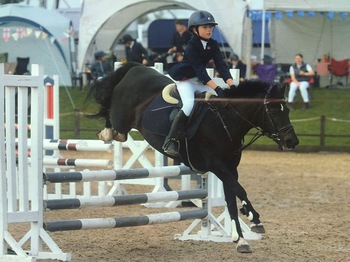 At the age of just nine years-old, Lottie Wright becomes the NAF Shining Star for September. A member of the Northumberland and Tyne & Wear Junior Academy, Lottie was up against stiff competition as all British Showjumping Junior Academy Members are eligible for nomination but it was her talent, commitment and attitude that have seen her receive this amazing award.
Lottie was nominated by Northumberland and Tyne & Wear Junior Academy Lead Coach, Philippa Curry "I would like to nominate Lottie Wright for this month's shining star award.
She is only nine years old and had NEVER competed at a British Showjumping event until the first day of the academy show where she jumped double clear in the Minis Team event and got placed in the top five in the 1 star NAF final. Her commitment to training and the academy is second to none as is her attitude, win or lose."
In her first year as a member of British Showjumping and the Tyne & Wear Junior Academy, Lottie's riding has come on in leaps and bounds. Lottie commented 'I am very happy to get this award. I enjoy everything about the academy and will continue working hard to improve my riding." Her mum Julie praised the fantastic coaches and added "We are so proud of Lottie, it is amazing to see how much she has come on with her riding!"
Melissa Newman, NAF Brand Manager, commented "Congratulations to Lottie, an inspirational Shining Star. Commitment to training and an excellent attitude has certainly paid off. It's fantastic to hear of such young and dedicated talent making an impression. Well Done Lottie!"
Lottie will kindly receive some NAF equine products to use alongside the supplements that she currently uses.
The NAF Shining Star Award was introduced when NAF became a British Showjumping Business Partner. The award is for members of a Junior Academy who have shown a great deal of commitment, progression and outstanding behaviour along with their riding ability and much more. Riders are nominated by their lead coach, and then judged and awarded by NAF to one person each month.
Article Source: British Showjumping News
Image courtesy British Showjumping image archive
Back to Hot off the Press