December 12th, 2017
Hot off the Press
Quel Ange wins Retraining of Racehorses (RoR) National Recognition Award 2017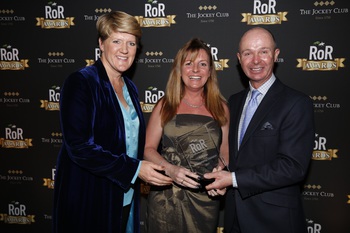 During the glittering 2017 RoR Awards Evening, hosted by RoR Patron Clare Balding and ITV Racing's Luke Harvey, a total of ten awards were given and the showjumping accolade went to Quel Ange, a 15 year-old bay gelding owned and ridden by Jane Gregory from Crewkerne, Somerset.
The British Showjumping RoR National Recognition Awards are aimed at encouraging and identifying retrained racehorses that are competing nationally with British Showjumping and recognise those retrained racehorses competing within the British Showjumping Spring/Summer Gold and Silver Horse Leagues.
A cash award is given to the owners of the two highest graded horses that have been awarded the highest number of points at the highest level during the 1st April - 30th September each year and the winners are identified by selecting the highest placed eligible horses with points in the Gold League section. If none qualify, it will move to the highest placed eligible horses in the Silver League section.
Quel Ange picked up the award after amassing 107 points in the Silver League and Jane said the following during yesterday evening "Quel Ange, aka 'Ken', did some eventing after his racing career finished and then he went showjumping, where he was based with my trainer and a few years ago she suggested he would be a good horse for me. At the time, I didn't feel that I could do him justice, but she asked again and this time I agreed; I have had the two most amazing years with him.
"I'm not the bravest person when it comes to jumping big fences and at a county show my friends cajoled me into jumping a six-bar competition and Ken and I ended up being joint winners, jumping 1.60m – which was amazing. He's only 15hh and the crowd were all saying 'we want the little black horse to win!'.
"He's got a heart of gold and is just fantastic. He just wants to win for you. He'll be 16 next year and we would love to try and win the RoR award again."
The RoR awards celebrate the versatility and adaptability of former racehorses with trophies and total prize money of over £17,000 going to the year's elite champions in dressage, endurance, eventing, polo, showing and showjumping.
Among the evening's award winners, there were some wonderful stories of former racehorses that have only found their true niche once tried in a different discipline.
The story of the former racehorse who took his amateur rider to the heights of the showing world earned Beware Chalk Pit the title of 2017 RoR Horse of the Year. The 13-year-old gelding enjoyed a seven-year career as a racehorse, but since his retirement from the track in 2015 Beware Chalk Pit has been on different journey, rapidly climbing the ranks in the show-ring, competing and enjoying success at venues beyond the wildest dreams of his rider, Rebecca Court.
RoR Chief Executive, Di Arbuthnot said: "In 2017 RoR held 298 classes in 25 separate series across ten different disciplines. We also staged 141 educational events helping owners and riders to get to get the best out of their former racehorses. And these awards showcase the benefits of these initiatives. Horses who often showed precious little ability on the racecourse, subsequently finding their niche with riders from a range of different backgrounds and experience.
"Seeing the delight on the faces of the award winners and hearing their backstories and their triumphs over adversity is not only very heart-warming, it is also reassuring in terms of the strategy we have undertaken in recent years. The disciplines are becoming more competitive and the quality of winner keeps on improving."
The 2017 RoR Awards winners:
RoR Elite Dressage Champion, in association with British Dressage - Jimmy Hay 16-y.o g by Bluegrass Prince, owned and ridden by Jenny Bulman
RoR Elite Polo Champion & winner of the Gerald Balding Cup - Harmony Wold 9-y.o m by Ishiguru, owned and ridden by Jack Richardson
RoR Elite Eventing Champion, in association with British Eventing - Gold Nugget 7-y.o g by Elusive City, owned by Jane Moss, ridden by Andrew Downes
RoR Elite Endurance Champion, in association with Endurance GB - Karactacus Potts 10-y.o g by Kings Theatre, owned and ridden by Anna Collins
RoR Elite Performance Award for Showing - Wild West 9-y.o g by Galileo, owned and ridden by Lizzie Harris
RoR Show Series Champion, sponsored by Tattersalls - Imperial Ruby 8-y.o g by Imperial Dancer, owned by Sar Cassidy-Hill, ridden by Southerly Roberts
RoR Elite Showjumping Award, in association with British Showjumping - Quel Ange 15-y.o g by Tel Quel, owned and ridden by Jane Gregory
RoR Racing to Hunting Challenge and the Meriel Tufnell Trophy - Brumous 17-y.o g by Glacial Storm, Owned and ridden by Melanie Duff
RoR Special Recognition Award - Barbers Shop 15-y.o g by Saddlers' Hall, owned by The Queen and ridden by Katie Jerram-Hunnable
RoR Horse of the Year, sponsored by The Jockey Club - Beware Chalk Pit 13-y.o g by Anshan, owned by Ann Leftley, ridden by Rebecca Court
Retraining of Racehorses (RoR):
Retraining of Racehorses (RoR) is British horseracing's official Charity for the welfare of horses who have retired from racing. RoR raises funds from within racing to provide and maintain facilities for the care, retraining and re-homing of former racehorses and to promote awareness of the suitability of the retrained racehorse for other equine careers. Working closely with the sport horse organisations and media, RoR promotes the adaptability of racehorses to other equestrian activities, and has a well established programme of competition sponsorship. In addition, RoR holds educational events across the country to help owners look after and train their former racehorses. For more information, visit www.ror.org.uk.
Back to Hot off the Press