August 16th, 2017
Showjumping - Latest News
The NAF Pony Five Star Finals - Full Report
The NAF Pony Five Star Finals took place once again during the National Inter Academy Team Show at Weston Lawns Equitation Centre in Bulkington, Warwickshire on Monday 14th August. The classes proved to be a great showcase for the successes achieved via the NAF Pony Five Star Performance Awards Programme.
The competition was divided into three sections; 1*, 2* and 3* and was marked on the capability of the rider and their influence on the performance of the pony. The rider's effectiveness, position, balance, feeling, timing, rhythm and impulsion to empower the pony to move and jump to the best of its ability was also judged and it was down to British Showjumping Coaches Philippa Curry & Mia Palles-Clark to make the tough decision on who the eventual victors would be. Riders were not only competing for the winners title, but also for NAF rugs and goodie bags on offer.
Each section was made up of a predesigned course which required a demonstration of flatwork movements as well as jumping a range of fences depending on the star level the rider has achieved on the NAF Pony Five Star Performance Awards Programme. Competitors with their 1* jumped a 0.70m track, 2* competitors jumped over 0.80m whilst 3* riders competed over 0.90m.
Following an afternoon of stiff competition, the section winners were announced as follows:
Thirteen year-old Holli Shanks from Morpeth, Northumberland was awarded the victory in the NAF 1* Pony Five Star Final on Joanne Shanks' 15 year-old bay gelding Rocky Ro Ge Ro Roger.
The NAF 2* Pony Five Star Final was won by 14 year-old Charlie Pincus from Uckfield, East Sussex on Golden Olive, an 18 year-old grey gelding Golden Olive owned by Emily Pincus.
Nicole Newburn, aged 14 from Preston, Lancashire scooped the NAF 3* Pony Five Star Final on George Newburn's 10 year-old grey gelding Amber Boy.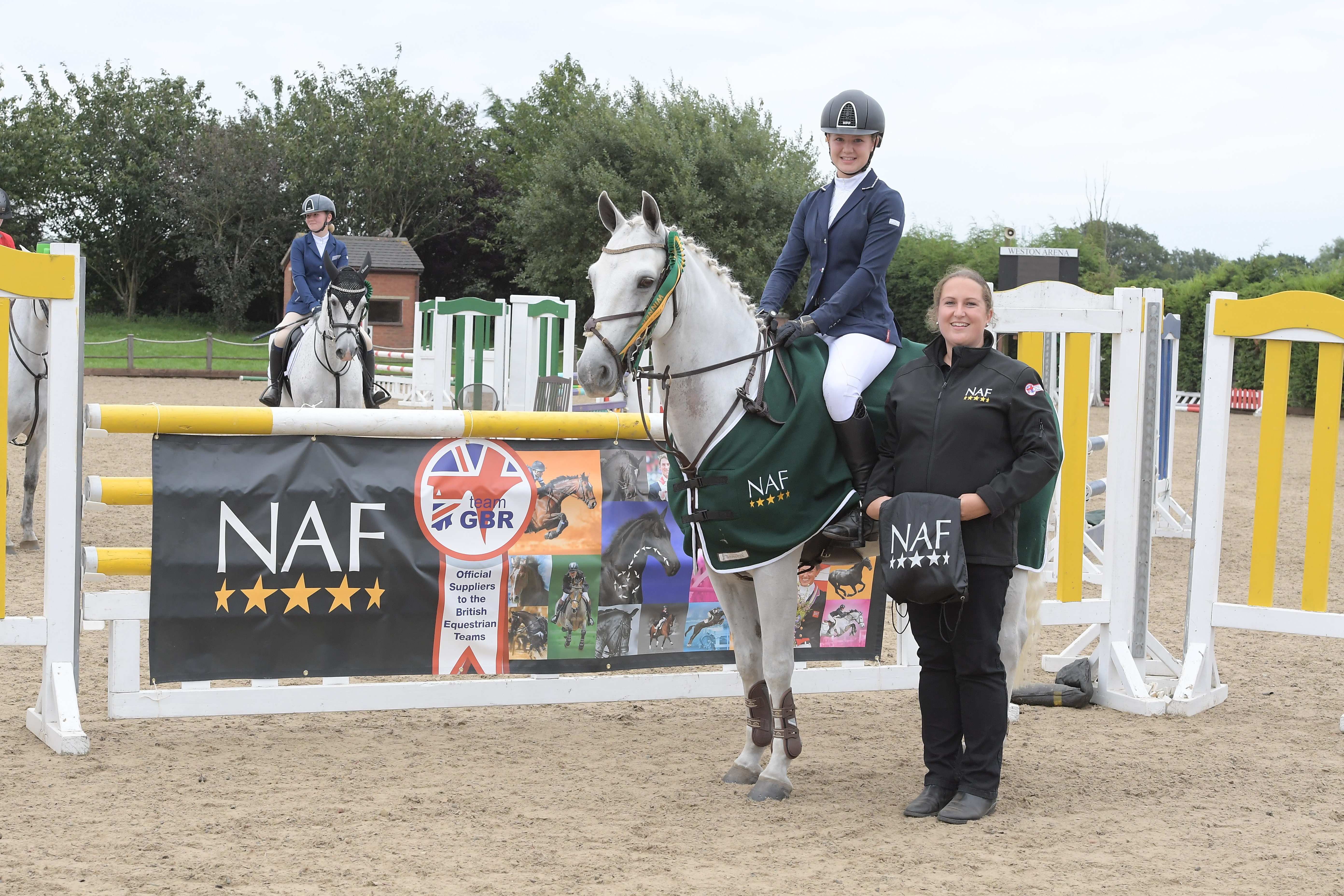 Image Credit - Spidge Event Photography
The NAF Pony Five Star Performance Awards Programme has been designed to provide a series of progressive standards to assist pony riders with a focus for their training and improved performance in the ring alongside developing stable management skills. For more information on the programme, please contact Rebecca Turner on 02476 698812 or Rebecca.Turner@britishshowjumping.co.uk.
NAF PONY FIVE STAR FINAL RESULTS:
NAF 1* Pony Five Star Final
1st - Holli Shanks & Rocky Ro Ge Ro Roger
2nd - Ellena Lobley & Benaughlin Sparky
3rd - Charlotte Wright & Star V
4th - Scarlett Cox Lomax & Lillibet II
5th - Charlie Parker & Secret Fortunes
6th - Fleur Jeffery & Symondsbury Piper
NAF 2* Pony Five Star Final
1st - Charlie Pincus & Golden Olive
2nd - Bethany Tabernor & My Last Rolo III
3rd - Yasmin Cutts & Erins Commander
4th - Mya Daniels & Drum Bob
5th - Kate Simmonds & Toby Star
6th - Harriet Keenleyside & Firene Constance
NAF 3* Pony Five Star Final
1st - Nicole Newburn & Amber Boy
2nd - Sophie Bass & Lu Lou C Es Broadway Baby
3rd - Cora Moore & Guinness the Cob
4th - Megan Morris & Just A Star
5th - Saskia Mohan & Tiperonic
6th - Georgie Barnard & Palmerstown Joe
Article Source: British Showjumping News
Images courtesy Spidge Event Photography
Back to Showjumping - Latest News