July 24th, 2017
Hot off the Press
Boyd-Excell on top again at CHIO Aachen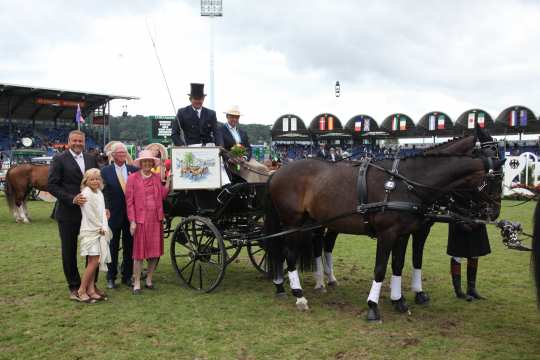 Even if the Australian, Boyd Exell, withdrew from the winning round in the Prize of the Heitkamp & Thumann Goup, prior to that he had secured his eighth victory in the Prize of the Talbot Family, i.e. the combined classification of the four-in-hand drivers. With a score of 152.75 minus points, he beat his protégé, the Belgian driver, Edouard Simonet (164.41), and his eternal rival from the Netherlands, Ijsbrand Chardon (168.48). He was followed in fourth and fifth place by his team colleagues, Koos de Ronde and Theo Timmermann. Then came Christoph Sandmann as the best German driver.
Questioned as to why he didn't drive in the winning round, Boyd Exell replied, "The horses had done a good job. The week was long and strenuous." He is simply a horseman. Furthermore, it meant he could watch his pupil, Edouard Simonet, triumph with a wonderful round in the Prize of the Heitkamp & Thumann Group. In 2010,
Simonet completed his degree in Agriculture in France and wanted "to do more than just drive on Saturdays and Sundays". So he went to work for Boyd Exell, it was possible to observe the fruits of this cooperation today. Simonet's mentor raved: "You don't have to tell him anything. He takes everything in with his eyes!"
Today, Edouard Simonet put this all into practice and beat his fellow countryman Glenn Geerts and the Czech driver, Jiri Nescavil. Simonet took 85.42 seconds to reach the finish line. His team colleague was not much slower: 85.92 seconds. And only five hundredths of a second separated him and Jiri Nescavil. The driver from Schleswig-Holstein, Mareike Harm, came fourth.
Article Source: CHIO Aachen News
Image courtesy CHIO Aachen / Foto Studio Strauch
Back to Hot off the Press