December 16th, 2017
Latest Equine News
Christie Pritchard wins World Class Programme Under 23 British Showjumping Championships Final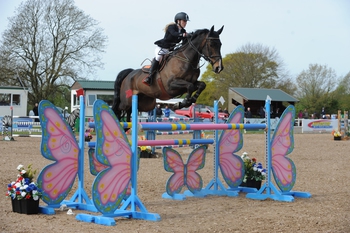 It was a brilliant start to the festive period for Christie Pritchard this afternoon when she won the World Class Programme Under 23 British Championships Final at Olympia, the London International Horse Show.
The 20 year-old rider from Anglesey, North Wales produced a double clear with Hans Christian Jacobsen's 14 year-old bay gelding, Waldermar and put in the quickest time of 43.33 seconds. Her incredibly fast round was enough to relegate Chloe Winchester, a member of the World Class Programme Potential Squad, into 2nd place with the 10 year-old British Bred mare Billy Cool who stopped the clock in 46.06 seconds.
With Christie and Cloe being the only two riders to achieve a double clear it was Amy Inglis who picked up 3rd place with home bred 9 year-old chesnut mare Wishes. Amy, who finished on 4 faults in the first round posted a fast second round clear to finish just ahead of Yazmin Davis on Zilverster II who took 4th.
Commenting after the prize giving an emotional Christie said: "That was amazing! I'm so pleased with him [Waldemar], he's done everything I have asked him to and he just never lets you down. It was a good course but I found that you had no time to stop and think you just had to keep going. My horse likes a bit of space so he was perfect down the distances.
Chloe further commented "She [Billy Cool] has been on really good form coming into this but you never know how they are going to react in an atmosphere like this so I couldn't be more pleased with her." Said Chloe.
The course built by London 2012 Olympic Games course-designer Bob Ellis was a testing one for the 24 starters which saw only three combinations go clear in the first round.
The World Class Programme aims to provide Britain's elite riders with the best preparation to represent Equestrian Team GBR on the international stage and is funded by National Lottery and Exchequer funds via UK Sport.
Article Source: British Showjumping News
Image courtesy British Showjumping image archive
Back to Latest Equine News