July 23rd, 2017
Hot off the Press
Dutch win Drivings' four-in-hand Nations' Cup for tenth time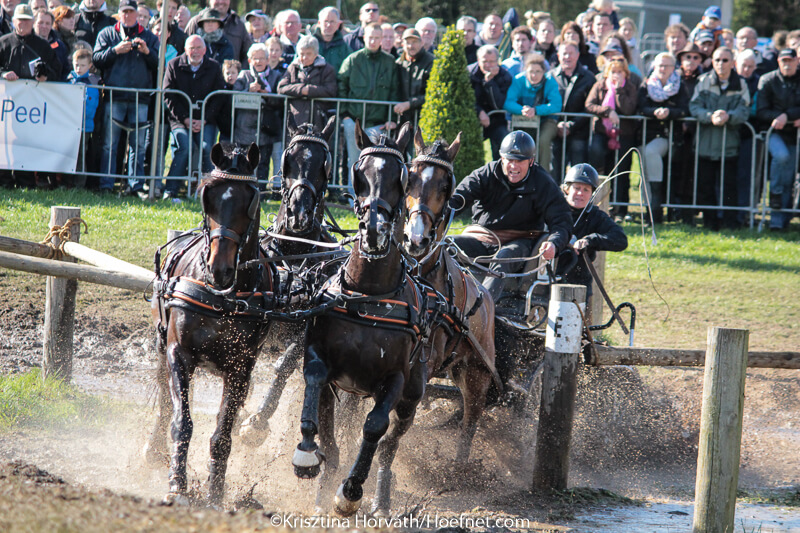 The Dutch team celebrated a special anniversary at the CHIO Aachen this year: They won the Nations' Cup of the four-in-hand drivers for the tenth time in succession. Whereby their Chef d'Equipe, Harry de Ruyter, clearly pointed out that he was not absolutely satisfied with the performance of his team – Theo Timmermann, Koos de Ronde and Ijsbrand Chardon. Although the three of them won the competition with a clear lead on a score of 336.53 minus points, ahead of Belgium (352.49 minus points) and the Germans (357.62). "Yes, he is very strict," sighed Ijsbrand Chardon, who had significantly contributed towards the success of Team Oranje after coming third in the Prize of the Talbot Family.
Second place went to a young Belgian trio comprising of Edouard Simonet (27), Dries Degrieck (22) and Glenn Geerts (28). In the Press Conference, the Dutch were asked how they intend to stop the rise of the Belgians, but they obviously didn't have a clear answer. Instead Chardon's comment was, "My compliments to the Belgians! It is good for our sport when young people start coming through!"
Third place went to the Germans, which considering their extremely mediocre start in the dressage was a good result, however they did make up good ground in the XXX Pallen Marathon and fought their way back into second place. Only to fall back into third place after the cone driving competition, the Preis of the Heitkamp & Thumann Group. "Too many faults," that was the sober summary of the team driver, Georg von Stein. His fellow team members were Christoph Sandmann and the European Champion, Michael Brauchle. Things particularly didn't run smoothly for the latter, he ranked 20th in the competition. After his victory in the Marathon yesterday, Christoph Sandmann, lay in fifth place and after the cone driving ultimately finished sixth. Georg von Stein fell back from seventh into eighth place.
Article Source: CHIO Aachen
Image courtesy Hoefnet.com
Back to Hot off the Press