November 29th, 2017
Showjumping - Latest News
Entries now open for 2018 Best Western & McMillan Cancer Ride of Their Lives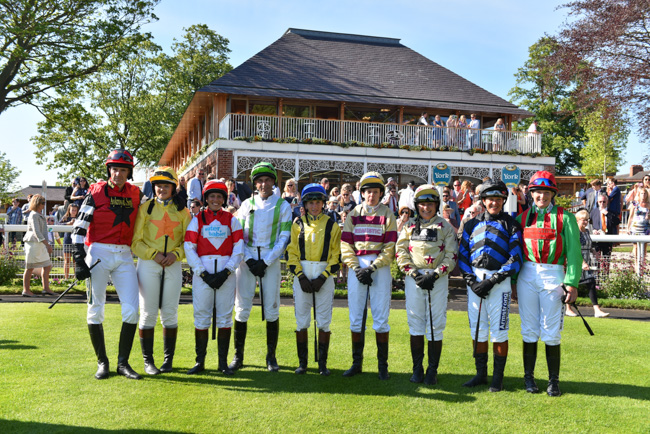 The countdown to the biggest charity raceday in the country begins again, entries are open to become one of the twelve riders in the Best Western Hotels & Macmillan Ride of their Lives on Saturday 16 June 2018.

It offers a chance for twelve members of the public to enjoy the "ride of their lives" as they participate in a nine furlong race around the famous Knavesmire. Each will pledge at least £3,000 to Macmillan Cancer Support, though this year's participant's contributed more than £138,000 to a cumulative total that over the last 46 years has raised over £7.5 million for Macmillan Cancer Support and local charities.

The race has become a popular part of a day that heads towards its 48th year and is the biggest single fund raising event in the Macmillan calendar.

Riders from the class of '17 – who included a carer and a mother of two - can take a real pride in having contributed a record amount to Macmillan. The honour of raising the most as an individual falls to Belinda Keighley, who posted nearly £30,000. As recognition of their fund raising achievement, the sponsors of the race, Best Western Hotels have given each rider a complimentary break at one of their properties.

Given the nature of riding a thoroughbred in front of a large crowd, the 2018 contestants are likely to already have riding experience but rest assured that anyone interested will be given intensive tuition so they have the chance to reach the required safety standard to make the start line. As this is a significant commitment it explains the early start for the search for competitors.

Once the field has been announced in December this year you will be able to help them fund raise in lots of ways, by visiting their donation pages on Just Giving or by attending the raceday on Saturday 16 June 2018.
Application form can be downloaded here
Article Source: York Racecourse Press Release
Image courtesy York Racecourse
Back to Showjumping - Latest News