October 26th, 2017
Latest Equine News
Wannabe Victoria Pendletons barred from Cheltenham Festival under new rules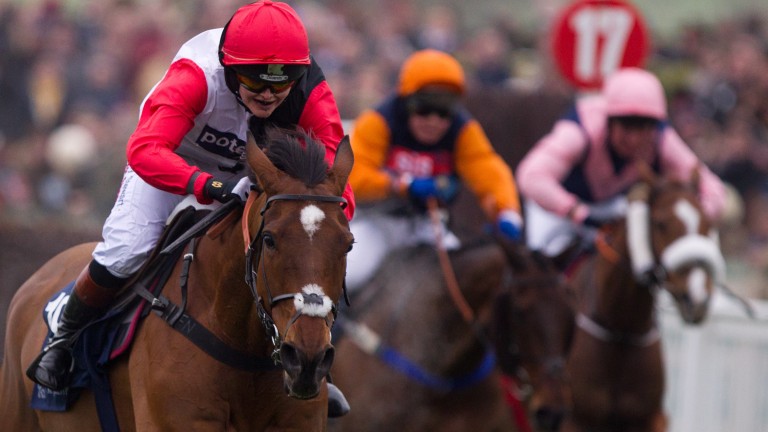 New restrictions are to be introduced on riders in the Cheltenham Festival's amateur races that would have prevented Victoria Pendleton from riding had they been in place in 2016, when she finished fifth in the Foxhunter Chase.
The Olympic cycling gold medallist was having only her third ride over regulation fences following three on the Flat when she finished a close fifth on Pacha Du Polder, on whom she had won at Wincanton earlier in the month.
She was riding with a category A amateur permit, but next year a category B permit (or overseas equivalent) will be needed for the Foxhunter along with the Fulke Walwyn Kim Muir Chase.
A category B permit requires a minimum of 15 completed rides under the rules of racing, the majority of which must have come over obstacles, or at least 20 completed rides in point-to-points (or a combination of both).
Pendleton, who retains her passion for racing but has not ridden under rules since last August, surprised many by giving a good account of herself at Cheltenham.
However, not all of the publicity garnered by her preparation and eventual participation was positive, with some questioning whether it was appropriate or safe for a novice rider to race at jumps racing's biggest event.
Lawney Hill, who with husband Alan mentored Pendleton through the training process, is in favour of the change.
Hill said: "Victoria did very well, but we have to move with the times and if we don't keep raising the standards we are in danger of losing races like the Foxhunter, which would be a desperate shame.
"Plenty of people are already saying it should be replaced by a veterans' chase, and I suspect that the death of James McNeile [the 57-year-old point-to-point rider killed at Larkhill in April] has focused attention on health and safety aspects.
"We will lose the true Corinthians, but you don't see many Eddie The Eagles around any more and I'm afraid in this day and age you have to do more.
"There are plenty of opportunities nowadays for amateurs to receive coaching from former jockeys and to gain more experience, and if we are improving riding standards that can not be a bad thing. Even Victoria, who was extremely fit, was amazed by the different nature of the fitness required for race riding."
Cheltenham clerk of the course Simon Claisse said: "This change to the entry conditions will ensure that all competitors have appropriate experience over fences to compete at this level, and by announcing it now it gives jockeys enough time to qualify for their category B licence."
Sarah Oliver of the Amateur Jockeys Association also reacted positively and said: "It's welcome news. These showcase races are anticipated from one season to the next by the amateur fraternity and it is only right that the race conditions should reflect the prestige of them."
In 2017 every rider in the Kim Muir rode under a category B licence and only four participated in the Foxhunter under category A.
Article Source: Racing Post News
Image of Victoria Pendleton & Pacha Du Polder in the 2016 St James's Place Foxhunters Chase at Cheltenham courtesy Racing Post/Patrick McCann
Back to Latest Equine News