Welcome to our first blog post… and thanks for coming to have a sneaky look too… we see you!
Seems like a perfect opportunity to introduce ourselves really, tell you where all our buttons go on the website and introduce the furry characters at Equine Advertiser HQ too.
Equine Advertiser is a family run business, nestled on the east coast of Lincolnshire (which, contrary to popular belief is really not as flat as everyone thinks it is), and is fueled by a passion for everything horse.
We get how frustrating it is, buying and selling, and we also understand how boring it is trying to search for services in the industry too, hence the creation of our Directory and easy to use categories across the website.
Our aim is fairly simple…it is to be simple, affordable, straightforward and applicable to the wider market from those who want a friend for life and a personal approach, to those searching for a superstar that require a professional standpoint. Lets face it – we would all much rather be riding than trying to locate a new horse, or lorry, arena architect or a nutritionist.
We will be doing our blog posts regularly, and we will also have quizzes aimed at the younger generation with a monthly prize draw (don't forget to email your answers in!), research and reading articles fuelled by Jess' passion for equine science, and our Business of the Month showcasing on a regular basis – so loads going on!

But more importantly, who are we?
We are Jess and Sarah, the gals that run the roost. With over 50 years of horses between the two of us, we are well versed on what is what and have been around the block a few times. Sarah has spent most of her working life with hunters, racehorses and driving horses for top BHDTA competitors, whilst Jess has dedicated hers to hunting, showjumping and eventing. Jess is graced with the brains and has also worked as an Equine Sport Science and Coaching lecturer at a leading UK equine university. Sarah is the pragmatic problem solver, and the glue that keeps us all stuck together. Between us both we strike a pretty good common sense to intelligence ratio (we think!).
Our four legged friends help to keep us busy, and there is no one more important than Blossom to begin with. She is chief, and at 32 inches tall and 33 years old, denotes everything that comes with 'small but mighty'. She has been with us for 22 years, loves a good bit of carrot cake, hates the vet, farrier, dentist and anyone that interrupts her day. She is a dab hand at dismantling the feed room given a whiskers chance to do so.
Next up is Bert. He is office dog Numero Uno. Chief holder of paper, a fantastic alarm system and superior chair warmer. He is a Jack Russell Chihuahua mix and has neither brains nor common sense…that's okay though because he's really cuddly. Winnie-bells is our office dog in training. A young gun with more energy than everybody else put together, she is super intelligent but a bit like your scatty best friend; leaves you feeling bedraggled and windswept, but with a heart of gold. She is gold medal standard at 'paw' and ADORES the beach. Flo is our elderly spaniel, she is the granny of the group, forgets who she is most days but is a happy-go-lucky sort.
Jack & Jonjo, affectionately known as Snackers and Orange, are both ex hunt horses. Both come with lots of individual requirements and needs, but are wonderful horses on their own merit. They are both horses that Jess worked with and built up quite an affection for, so when they came to live with us in their retirement, the chances of them ever leaving were slim to none!
We also have Betsy, a lovely laid back coloured cob that was bought as a family friend for everyone to love, but especially Sarah. She lives off fresh air, and is an absolute delight.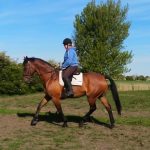 Before you go, have you liked our Facebook and Instagram pages? We will soon be having lots going on over there! If you guys reading this have any ideas for articles you would like us to write or do, please let us know. We have some exciting collaborations in the pipeline!
We will catch you all again soon,
Jess & Sarah